Blackhawk, Danville, Dublin, Modesto, Pleasaton, San Ramon, San Jose, San Marino, Walnut Creek
Comparison Charts of these cities
Source: Money Magazine Best Places to Live 2007
Purpose: Finding a satellite location for our Plastic Surgery Office
City statistics from Money Magazine, spreadsheet compiled individually for each California City
| | | | | | | | | | |
| --- | --- | --- | --- | --- | --- | --- | --- | --- | --- |
| | Blackhawk | Danville | Dublin | Modesto | Pleasanton | San Ramon | San Jose | San Marino | Walnut Creek |
| | | | | | | | | | |
| Population | 11,700 | 45100 | 30700 | 216900 | 66100 | 49800 | 895500 | 13400 | 68400 |
| | | | | | | | | | |
| Financial | | | | | | | | | |
| Median family income | $195,803.00 | $148,676.00 | $99,758.00 | $52,458.00 | $120,671.00 | $126,965.00 | $87,941.00 | $146,074.00 | $99,219.00 |
| Sales Tax (rounded) | 8.3 | 8.3 | 8.8 | 7.4 | 8.8 | 8.3 | 8.3 | 8.3 | 8.3 |
| Job Growth | 20.51 | 10.85 | 3.27 | 19.12 | 4.73 | 13.38 | -2.51 | 8.1 | 8.87 |
| | | | | | | | | | |
| Housing | | | | | | | | | |
| Median home price | 1324762 | 970394 | 688603 | 360485 | 829628 | 725,686 | 627430 | 1546120 | 721905 |
| Avg Property Taxes (2006) | 7141 | 6797 | 5560 | 2077 | 5254 | 6004 | 4743 | 4377 | 4885 |
| | | | | | | | | | |
| Education | | | | | | | | | |
| Colleges, universities within 30 miles | 28 | 31 | 31 | 3 | 31 | 31 | 23 | 50 | 27 |
| Test Scores Reading (% above avg) | 99.8 | 90.6 | 50.8 | 0.5 | 79.4 | 81.5 | 12.9 | 112 | 77.5 |
| Test Scores Math | 65 | 72 | 42 | 3 | 66 | 63 | 14 | 76 | 62 |
| | | | | | | | | | |
| Quality of Life | | | | | | | | | |
| Air quality index (% days AQI ranked as good) | 85.2 | 85.2 | 89.3 | 74.5 | 89.3 | 85.2 | 76.7 | 32.1 | 85.2 |
| Property crime incidents | 26 | 14 | 26 | 60 | 23 | 19 | 25 | 20 | 42 |
| Median commute time | 28.9 | 24.3 | 23.8 | 17.5 | 25.8 | 23.4 | 24.3 | 22.1 | 26.7 |
| | | | | | | | | | |
| Leisure and Culture | | | | | | | | | |
| Restaurants (within 15 miles) | 2490 | 3881 | 2432 | 986 | 2277 | 3356 | 5131 | 10286 | 4026 |
| | | | | | | | | | |
| Weather | | | | | | | | | |
| Annual Rainfall (inches) | 23.96 | 23.96 | 14.82 | 13.12 | 14.82 | 23.96 | 15.08 | 18.56 | 23.96 |
| % clear days in the area | 44 | 44 | 44 | 50 | 44 | 44 | 44 | 40 | 44 |
| High temp in July F | 85.2 | 85.2 | 89.1 | 93.6 | 89.1 | 85 | 84.3 | 89 | 85.2 |
| Low temp in Jan F | 39.3 | 39.3 | 37.4 | 40.1 | 37.4 | 39.3 | 41.7 | 42.6 | 39.3 |
| | | | | | | | | | |
| Health | | | | | | | | | |
| Avg BMI | 27 | 27 | 27 | 29 | 27 | 27 | 26 | 27 | 27 |
| Hypertension rates | 34.4 | 34.4 | 31.8 | 25.8 | 31.8 | 34.4 | 23.3 | 28.4 | 34.4 |
| | | | | | | | | | |
| Meet the Neighbors | | | | | | | | | |
| Median Age | 41.3 | 40.3 | 34.9 | 32.1 | 37.6 | 36.8 | 34.3 | 42.1 | 45.4 |
| % of residents completed some college | 89 | 86.1 | 69.2 | 51.2 | 80.5 | 85.6 | 65.8 | 86.7 | 83.6 |
| Racial Diversity index (higher is more diverse) | 98.1 | 52.4 | 130.4 | 109.3 | 83.2 | 89.5 | 305.4 | 355.4 | 59 |
| Amount spent on vacations per year | 10899 | 9401 | 8428 | 7161 | 8936 | 9218 | 7882 | 10845 | 8756 |
---
visitors to this San Ramon, Pleasanton, Blackhawk, Dublin, Danville Plastic Surgery satellite office research web page.
© Surgical Artistry, Inc 2007. Website resides on Dr. Tammy Wu, Board Certified Plastic Surgeon's computer server. She has graciously allowed for many web pages to share space and be backed up daily on her server. This San Ramon Notes web page was made by Calvin Lee. Last updated: 09/30/2007. Disclaimer: There's no medical advice here.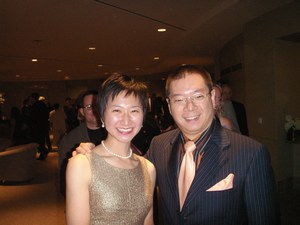 Dr. Tammy Wu (Plastic Surgery), and Dr. Calvin Lee (General Surgery)
at the Gallo Center For the Arts Founders Reception 2007.
Dr. Wu and Dr. Lee are also founders of Surgical Artistry, Inc.

To schedule an appointment,
please call (209) 551-1888
or email staff [at] surgerytoday.com



Surgical Artistry Inc.
T. Tammy Wu, MD - Plastic Surgeon
Calvin Lee, MD - General Surgeon, Acupuncturist
Christine Landrum - Aesthetician

2336 Sylvan Ave. Suite C
Modesto, CA 95355

(209) 551-1888

Call us: (209) 551-1888
Write us:staff [at] surgerytoday.com

Tammy Wu, MD - Plastic Surgeon
Calvin Lee, MD - General Surgeon







Cosmetic Surgery Expertise includes:
Breast augmentation / Breast implants
Tummy Tuck / Abdominoplasty
Liposuction / Body contouring
Thigh lift / Buttock lift
Face lift / Neck lift





Our Surgical Artistry, Inc web pages:
[Modesto Plastic Surgery with Dr. Tammy Wu] [New to Modesto?] [General Surgery] [Veins]
[Acupuncture / Alternative Medicine] [Breast Implant FAQ] [Beyond Nip Tuck] [Docs Play the Pops]
---